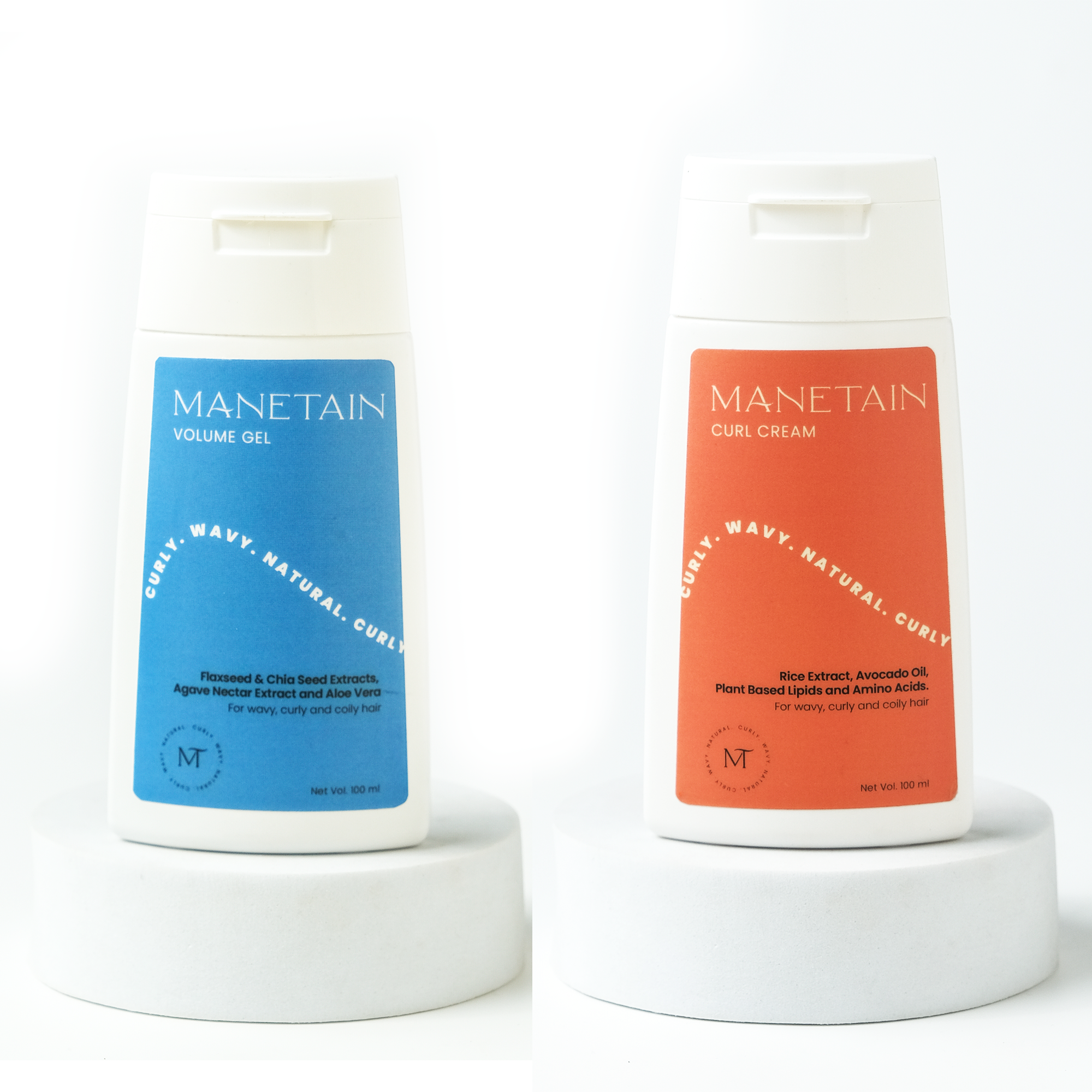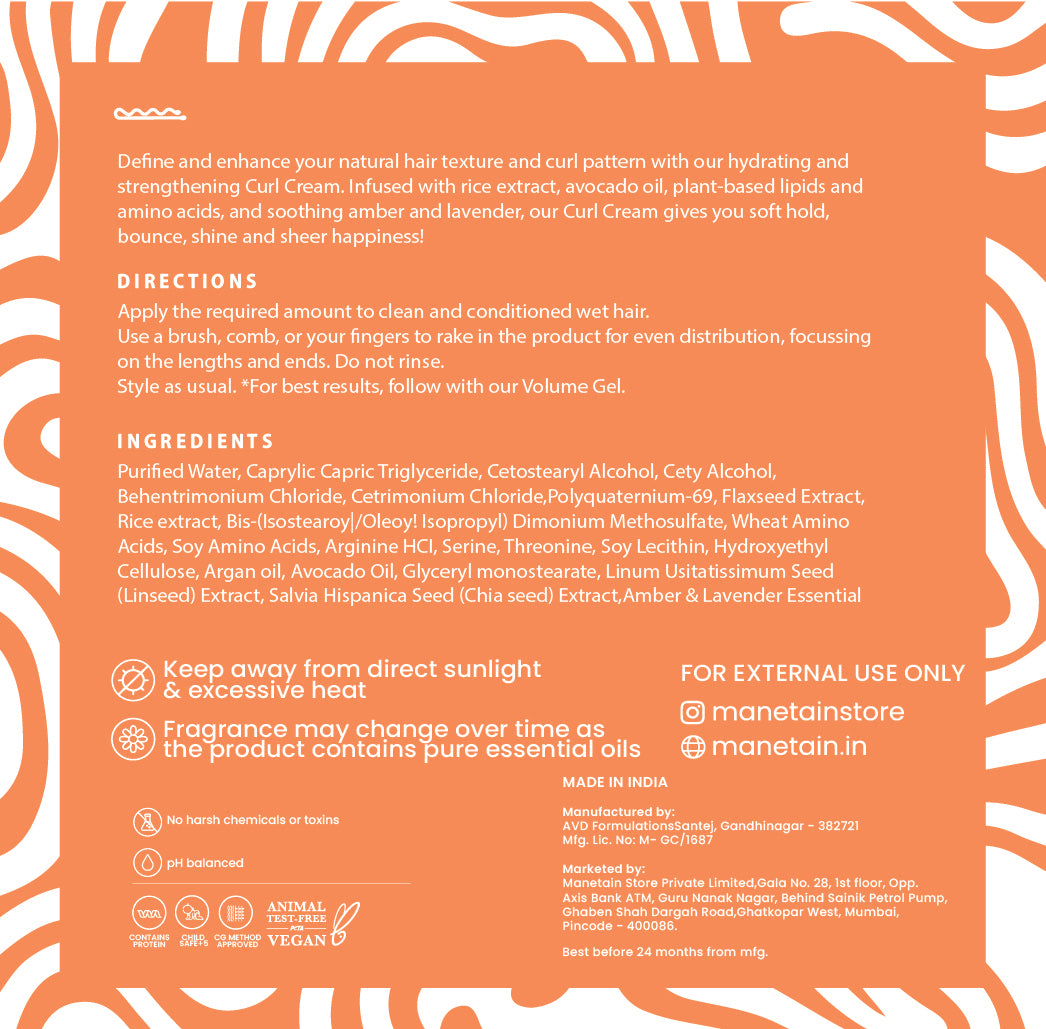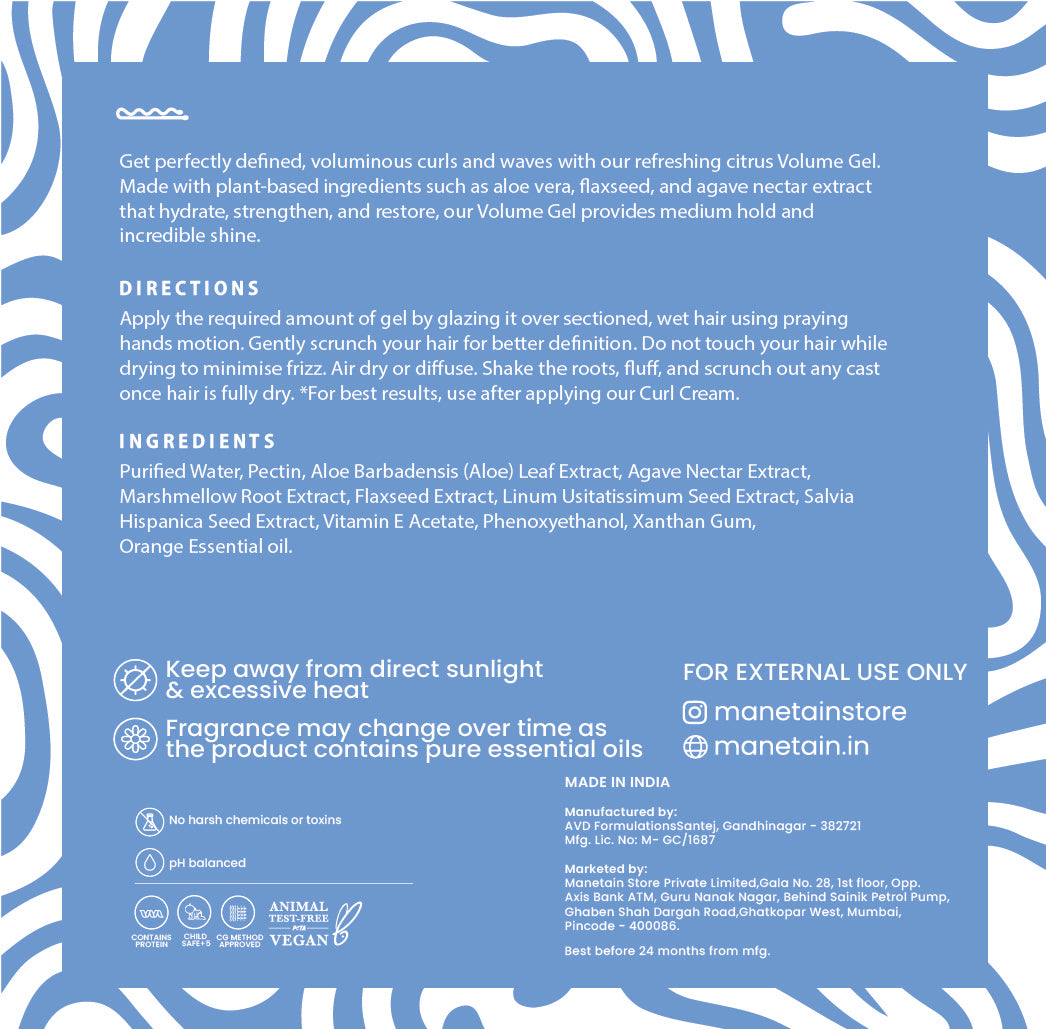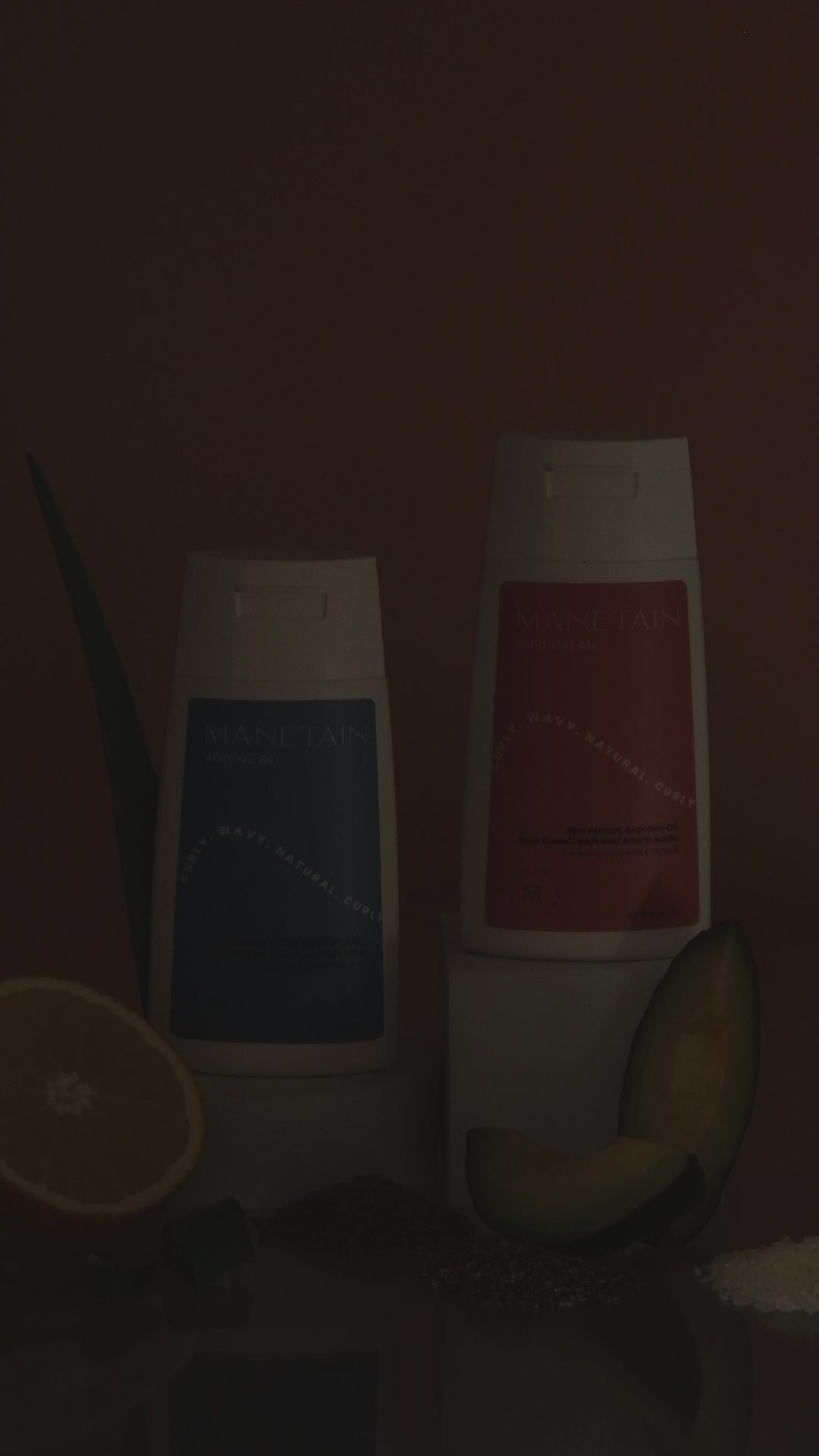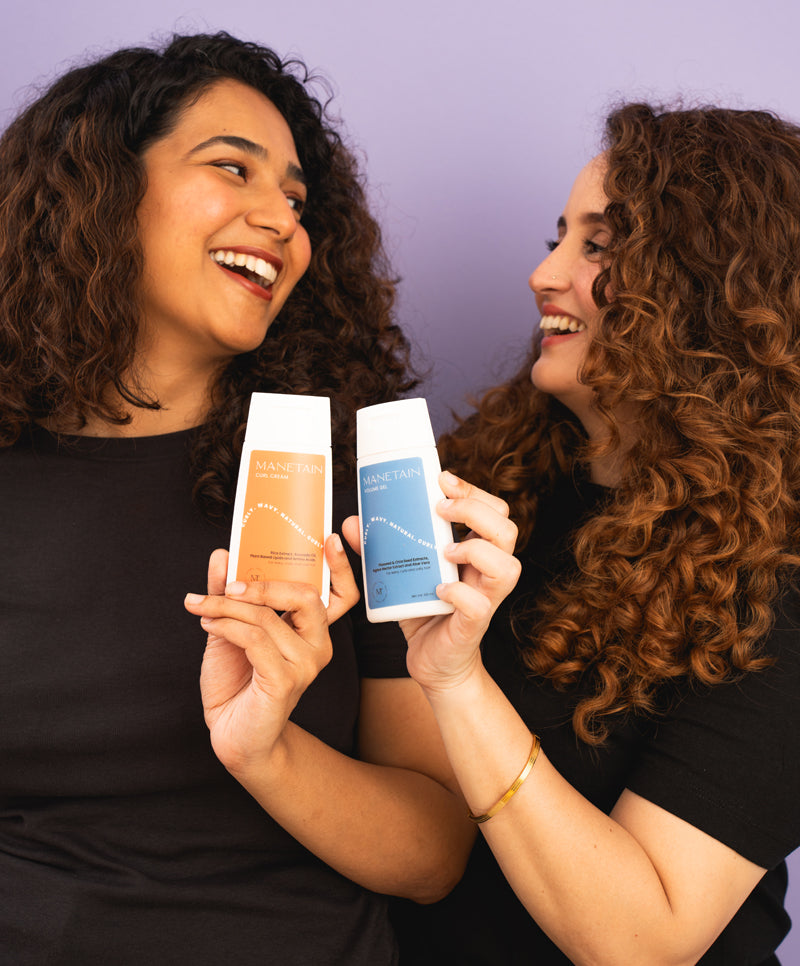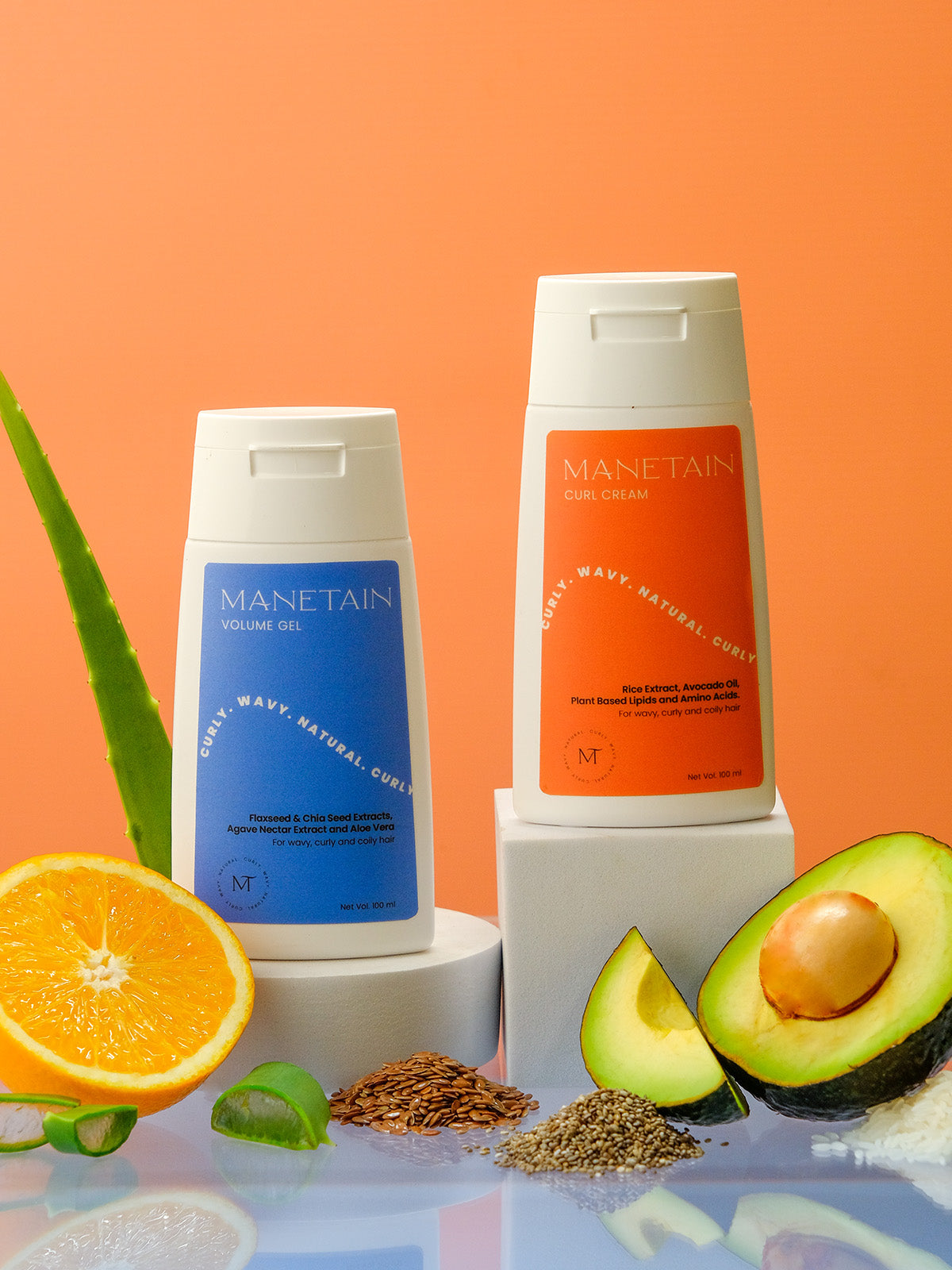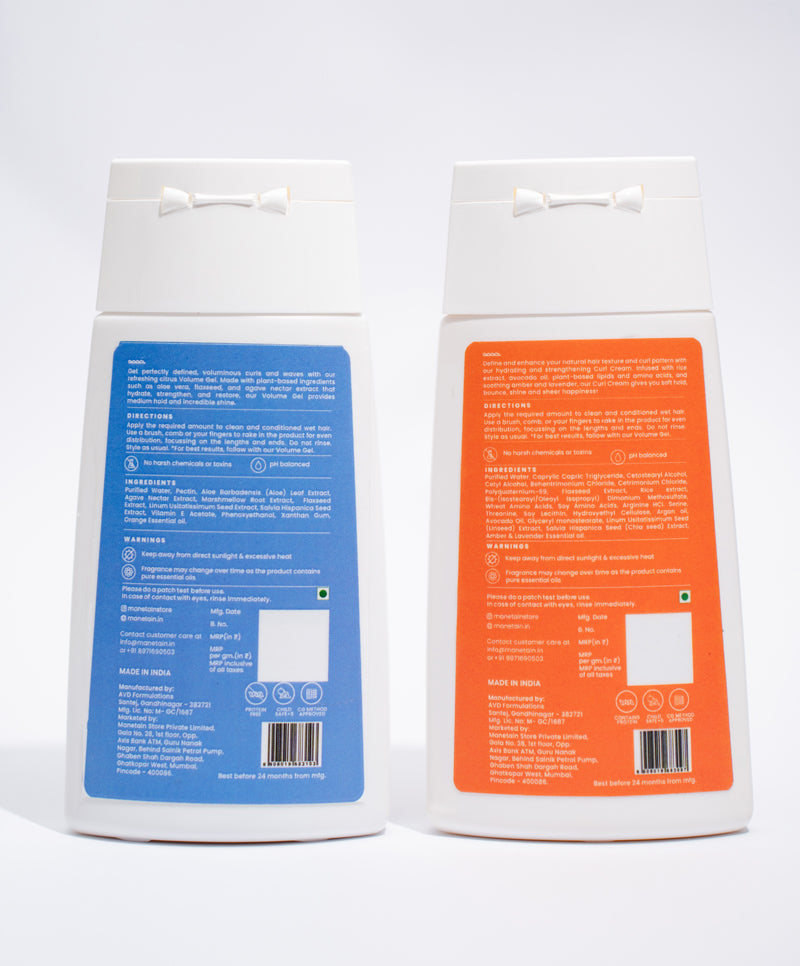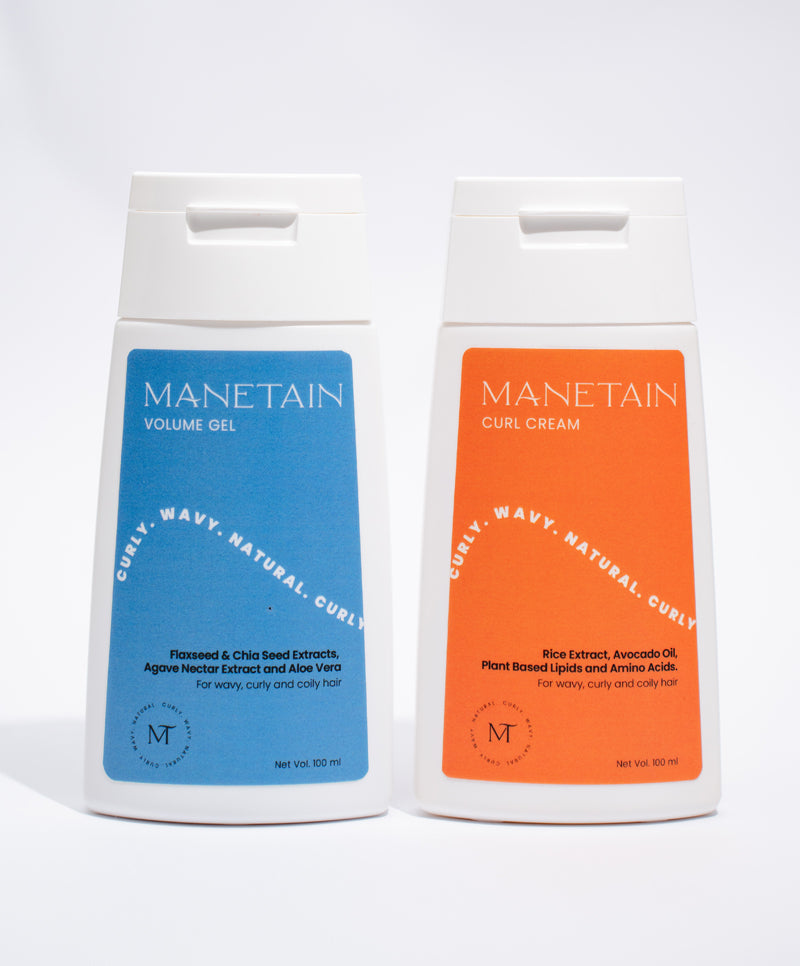 Volumize & Define Kit
Sale price

Rs. 713.70
Regular price

Rs. 1,098.00
(/)
Integral to a good CGM routine, stylers are the last step that not only make or break your washday but also help seal in all the moisture and goodness that you've applied while shampooing and conditioning. Developed by founders Hinshara and Yuba (also devout followers of Lorraine Massey's Curly Girl Method) to fill the void of good quality CG-friendly products in India, our Curl Cream and Volume Gel are simple, easy-to-use stylers for anyone who's looking to add that last step to their haircare routine. 




What makes our products truly special is not only what they can do for you in terms of hold, definition and shine, but what they contain and how these ingredients actually benefit the health of your hair. 




Our Curl Cream comes packed with amino acids and plant-based lipids that deeply nourish, restore, and strengthen your hair, along with rice extract, avocado oil, soy lecithin, and linseed and chia polysaccharides to promote hair growth, reduce frizz and breakage, and improve vitality and manageability. The Volume Gel contains ingredients that help rejuvenate and invigorate the hair and aid in the recovery of lost radiance, vitality, and shine. Together, they truly are the only "Styling Duo" you'll need! 
Curl Cream
Plant-based lipids and amino acids: Plant-based lipids and amino acids both work together to improve the tensile strength and manageability of your hair. Lipids strengthen, add shine, and prevent breakage, while amino acids repair and promote healthy growth, resulting in radiant,
resilient hair.

Rice extract: Rich in vitamins, minerals, and antioxidants, rice extracts strengthen hair, promote growth, and improve scalp health, giving you increased shine, reduced frizz, and enhanced vitality
and bounce.

Avocado oil: A light moisturising oil, avocado oil is abundant in vitamins and fa_y acids. The oil aids in
detangling, enhances moisture, and protects from environmental damage, giving you soft, shiny, and
manageable hair.

Full ingredients list:
Purified Water, Caprylic Capric Triglyceride, Cetostearyl Alcohol, Cetyl Alcohol, Behentrimonium
Chloride, Cetrimonium Chloride, Polyquaternium-69, Flaxseed Extract, Rice Extract, Bis-
(Isostearoyl/Oleoyl Isopropyl) Dimonium Methosulfate, Wheat Amino Acids, Soy Amino Acids,
Arginine HCL, Serine, Threonine, Soy Lecithin, Hydroxyethyl Cellulose, Argan Oil, Avocado Oil,
Glyceryl Monostearate, Linum UsitaGssimum Seed Extract, Salvia Hispanica Seed Extract, Amber &
Lavender Essential Oil.

Volume Gel
Flaxseed and chia seed extract: Flax seed and chia seeds are both rich in omega-3 and antioxidants,
which strengthen and add shine and softness to the hair. Chia seeds in particular help create a natural, flexible hold for hairstyles and provide nourishing benefits with their omega-3 fatty acids and antioxidants.

Aloe leaf extract: Aloe vera serves as a superhero ingredient for hair, offering countless benefits such
as hydration, scalp soothing, itchiness relief, and enhanced hair growth through improved scalp blood circulation.

Agave nectar extract: A natural alternative to synthetic ingredients, agave nectar extract hydrates and moisturises the hair, while reducing frizz, preventing split-ends and adding shine.

Full ingredients list:
Purified Water, Pectin, Aloe Barbadensis (Aloe) Leaf Extract, Agave Nectar Extract, Marshmallow
Root Extract, Flaxseed Extract, Linum Usitatissimum Seed Extract, Salvia Hispanica Seed Extract,
Vitamin E Acetate, Phenoxyethanol, Xanthan Gum, Orange Essential Oil.
First Curl Cream

Step 1: Apply the required amount of Curl Cream to your hair.
Step 2: Use a brush, comb or your fingers to rake in the product for even distribution, focussing on the lengths and ends.
Step 3: Gently scrunch your hair for enhanced curl pattern and better definition.

Second Volume Gel

Step 1: Take the required amount of gel (depending on hair length and texture) and spread it in your
palms.
Step 2: Using the praying hands motion, glaze the gel over sectioned, wet hair to lock in the moisture from our Curl Cream.
Step 3: Gently scrunch your hair again. Avoid touching your hair once you've applied the gel and while drying to minimise frizz.
Step 4: Air dry or diffuse.
Step 5: Shake the roots, fluff, and scrunch out the cast (SOTC) once your hair is 100% dry.

*For best results, use our Curl Cream and Volume Gel together on cleansed and conditioned hair. Use
a styling method that works best for your hair.
Choose options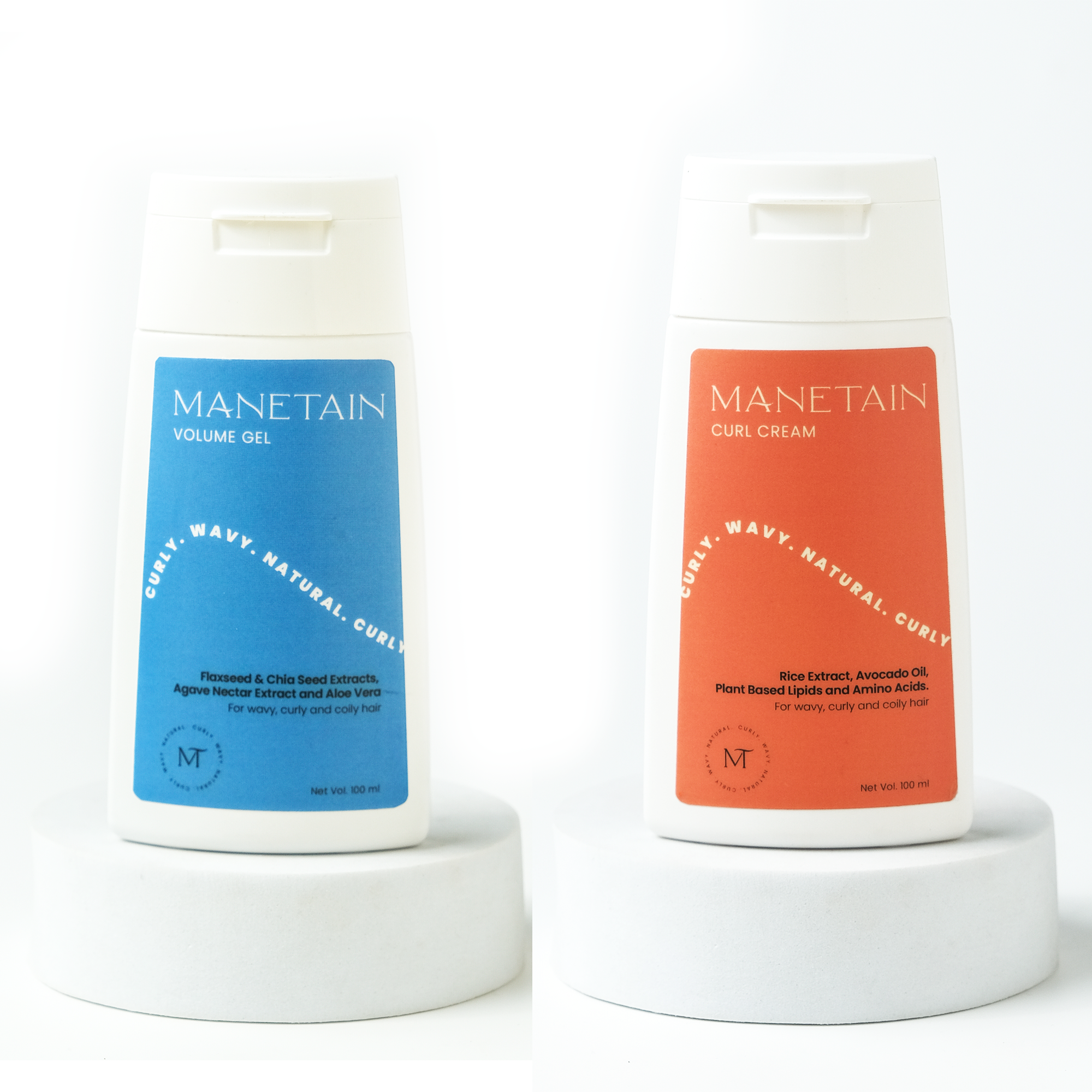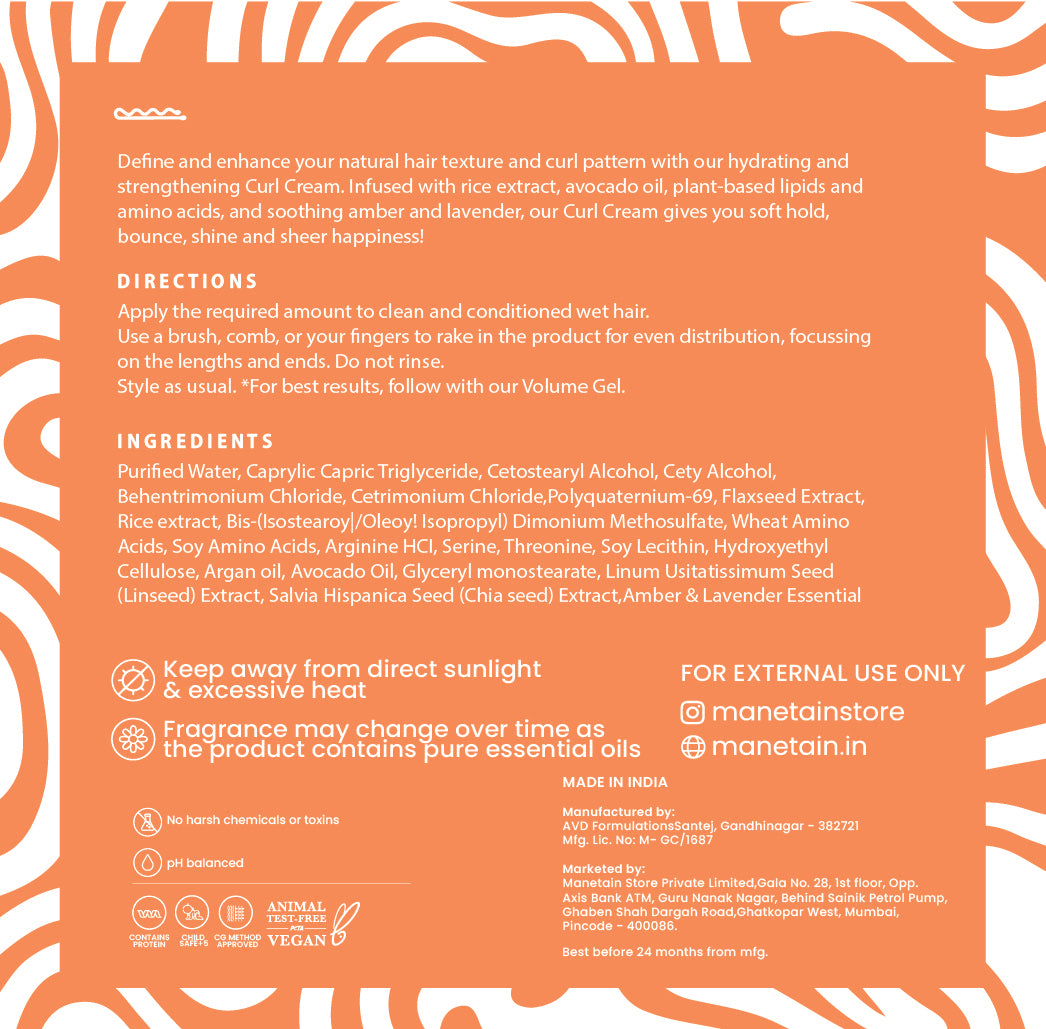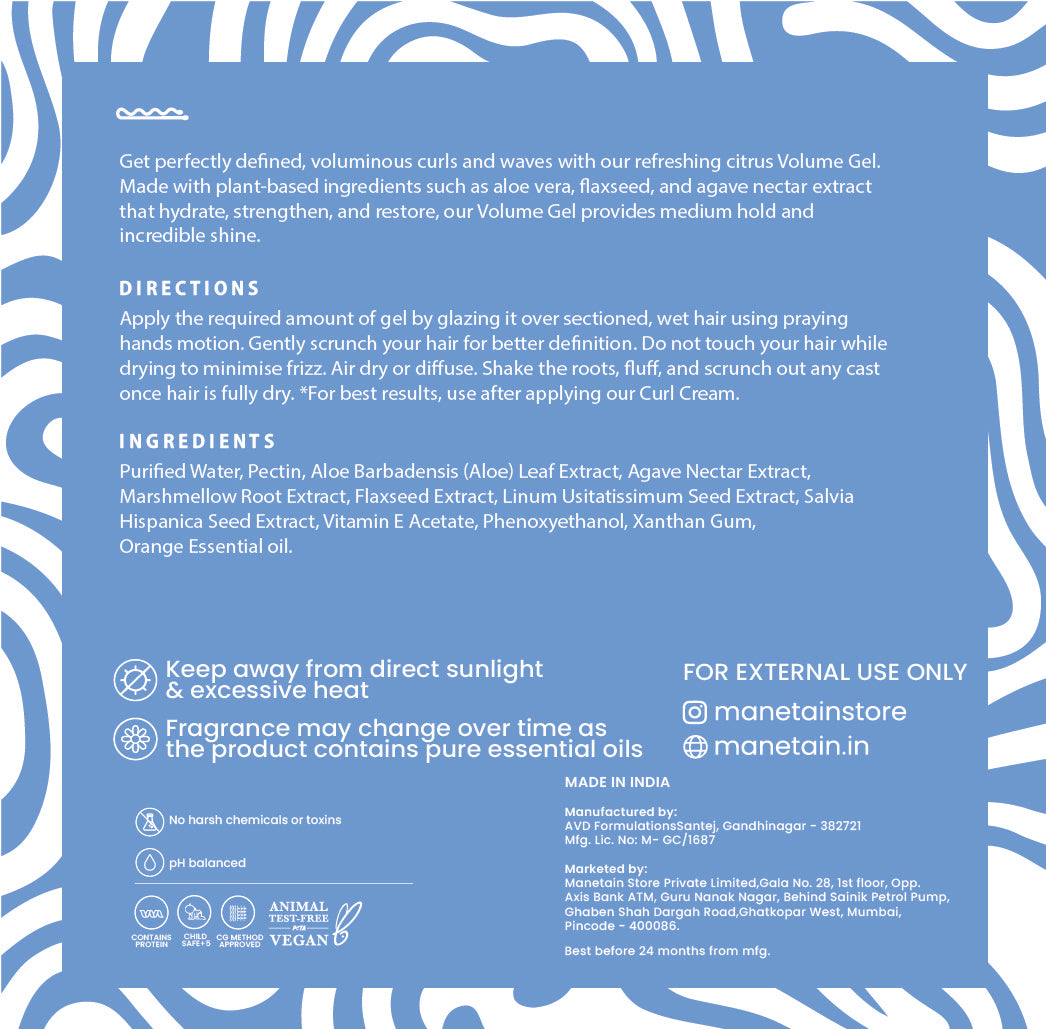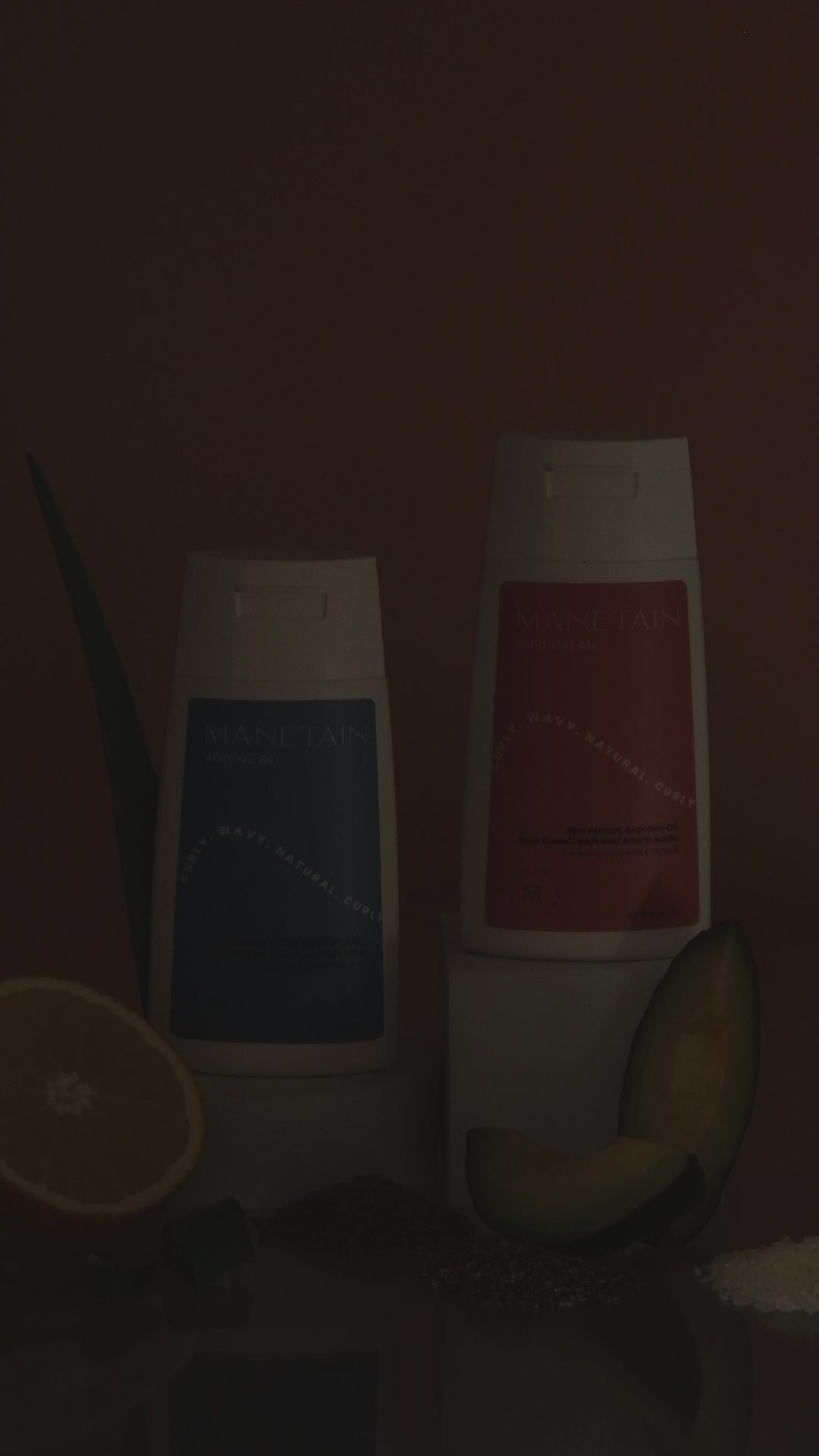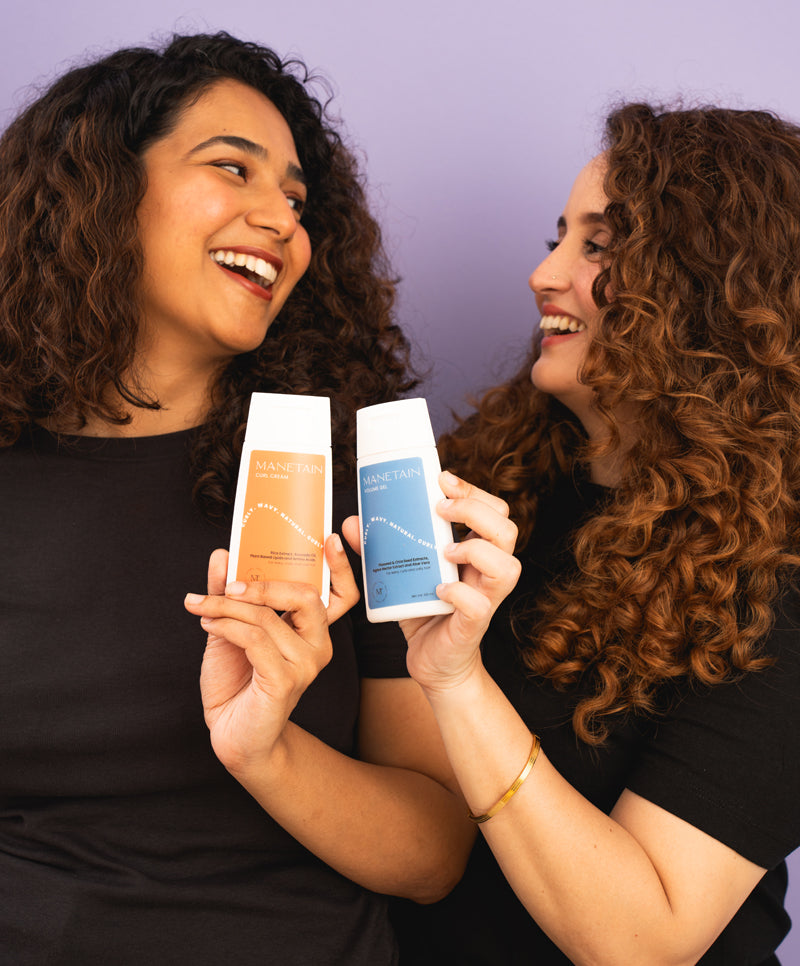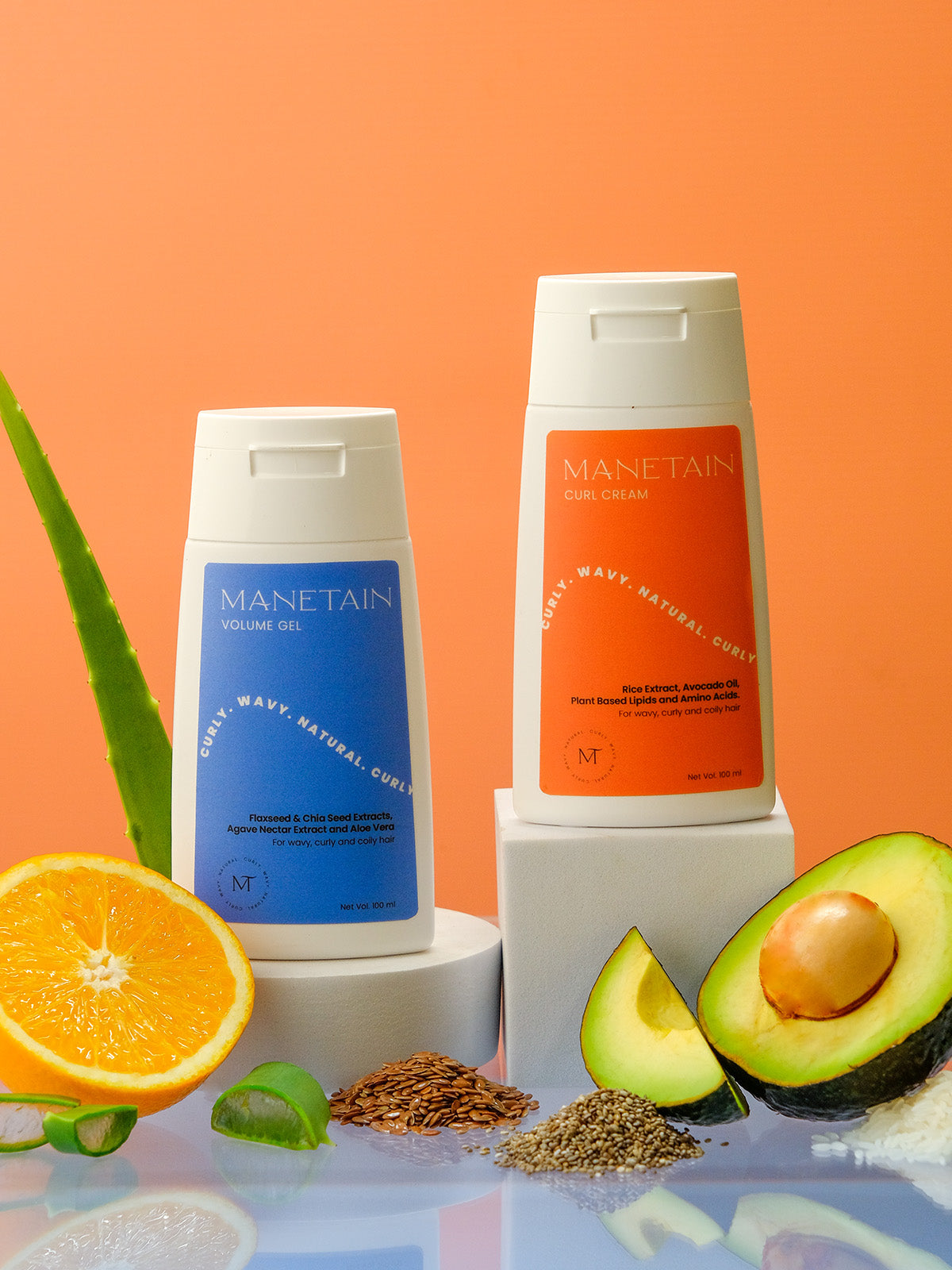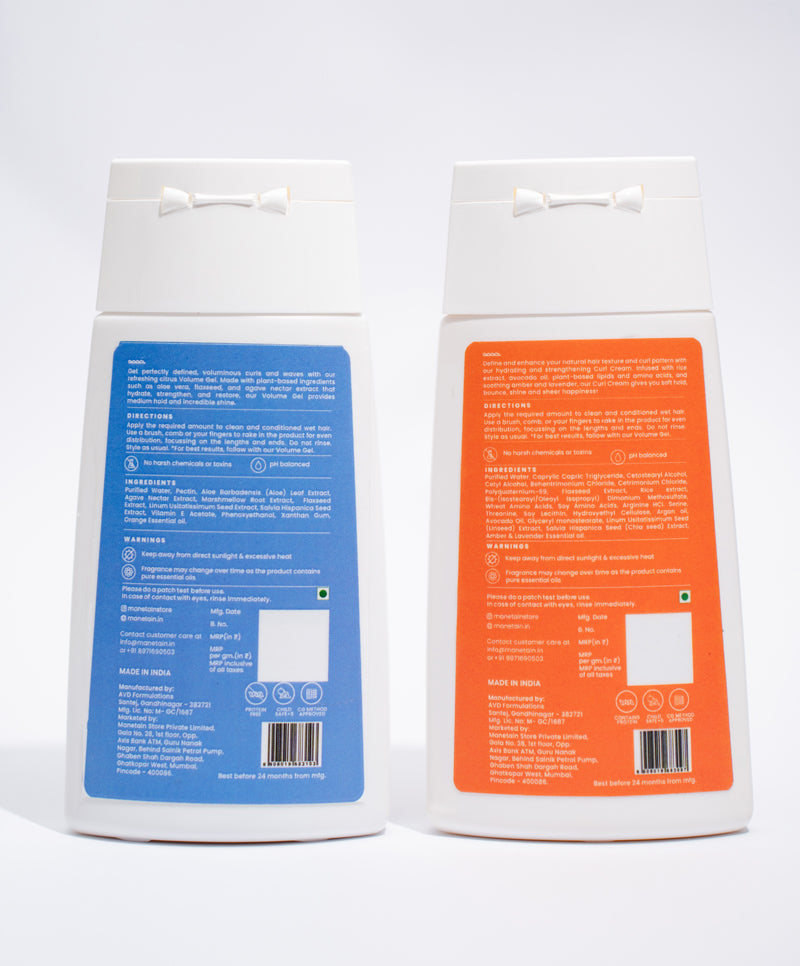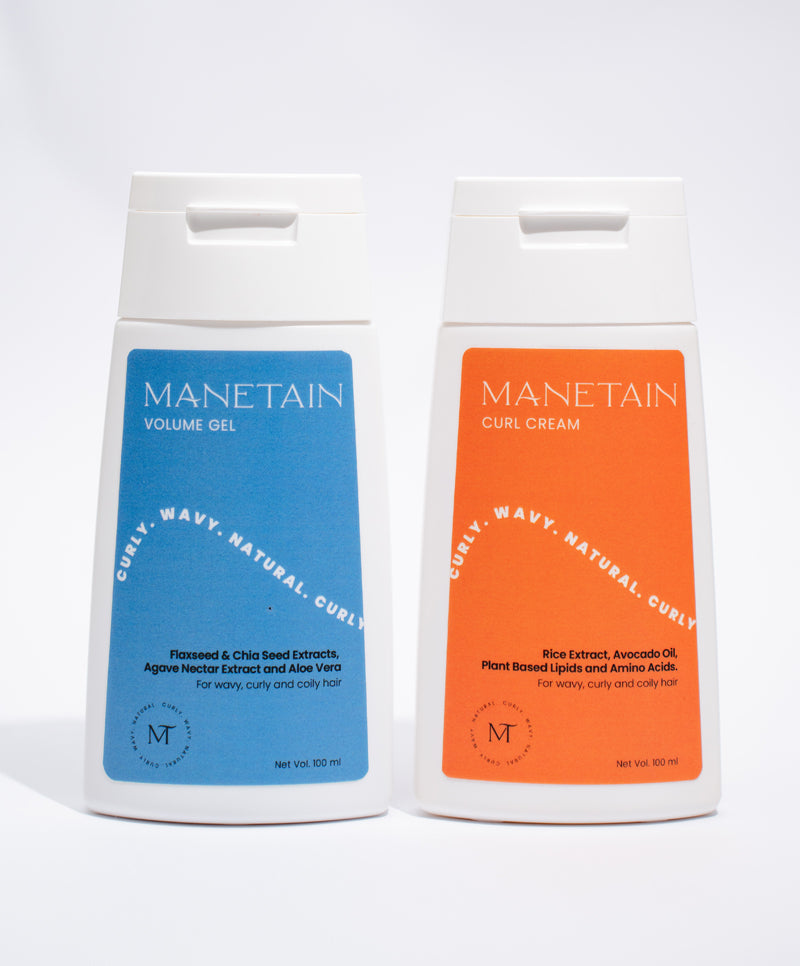 Sale price

Rs. 713.70
Regular price

Rs. 1,098.00
(/)
View details